Desires Within Young Girls (1977)
Year
: 1977
Country
: USA
Genre
: Classic
Quality
: DVDRip
Language
: Original
Director: Richard Kanter (as Ramsey Karson)
Studio: Alpha Blue Archives
Starring: Georgina Spelvin, Clair Dia, Annette Haven, John Leslie, John Seeman, Joan Devlon, Bonnie Holiday, Abigail Clayton, Paul Thomas, Carl Irwin, Ray Wells, Ralph Jenkins, John Alderman, Chesley Noone, Jon Martin
Description: Alpha Blue Archives presents a new digitally re-mastered UNCUT release of the absolutely enduring "golden-age" classic DESIRES WITHIN YOUNG GIRLS (1977, 103 min., director Richard Kantner, starring Annette Haven, Georgina Spelvin, Abigail Clayton. Clair Dia, Joan Devlon. Stacy Evans. John Leslie.)
Georgina Spelvin plays Madeline Stone, a woman whose husband passes away during the opening sex scene. Discovering she is not as well off as she thought, she decides to get her daughters (Annette Haven and Clair Dia) out of school to marry them off to rich husbands.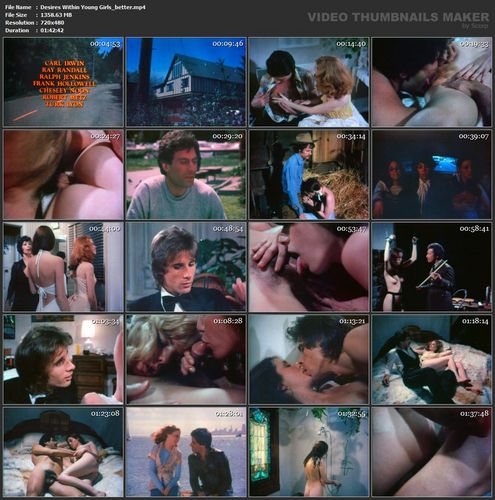 File Size: ~1350MB
Resolution: 720×480
Duration: 103 min
Format: mp4
Download Link(s):
Desires Within Young Girls.mp4 – 1.3 GB
Latest posts by Adultsblog
(see all)